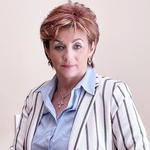 860-474-3500
860-474-3474 fax
860-305-8852 cell phone

elaheselton@gmail.com
131 New London Turnpike, Unit 215
Glastonbury CT, 06033
Receive Email Alerts from Me
Carl Guild & Associates, "The Future of Real Estate," recently announced real estate sales professional Ela Heselton has joined the brokerage. Heselton is a seasoned mental health professional who is eager to help buyers and sellers throughout the state with compassion, care and her signature good humor.
"Ela is passionate about real estate and brings an incredible level of detail to every facet of her business," says Carl Guild, broker/owner of Carl Guild & Associates. "Her background in mental health allows Ela to create an incredibly empathetic experience for her clients, which is so important for transactions that can easily cause a lot of stress." 
Born in Poland, Heselton learned to speak English by reading magazines and watching kids' cartoons. She came to the United States in 1988 after a successful nursing career in her home country and took a job as a mental health professional. Eager to take her career in a new direction, and encouraged by her supportive husband and a friend, Heselton decided to get her real estate license. Today, she's the newest member of the Carl Guild & Associates family.
"I wanted to try something different and challenge myself," she explains. "It also seemed like a logical next step for me; mental health and real estate are connected because transactions can cause a lot of anxiety for clients." 
Heselton recalls her own experience searching for a home, and how devastating it was after her offer wasn't accepted. "When you find a home, you put your heart into it and see yourself in the house, so it can be difficult if you lose out on the home of your dreams." 
Heselton says that's where she comes in, to provide support, guidance and perseverance, even in markets that aren't favorable to buyers. With meticulous attention to detail, she will ensure her clients do find their perfect home. She's also using the extensive training provided by Carl Guild & Associates to prepare for every possible client scenario. 
"The training at this brokerage is absolutely amazing," she says. "Carl is so warm, giving and welcoming. He makes his agents the No. 1 priority, so you feel like you are with a family and not a business." 
Beyond the brokerage, Heselton is excited for what's ahead.  "I love when people find the house that is perfect for them and you can see the smile on their faces and know they're just imagining kids running around the house, picking out their rooms," she says. "Helping someone discover a new home really shows you their plans, desires and ultimately, their dreams."
3
Beds
2
Baths
2,082
SqFt
3
Beds
3
Baths
2,154
SqFt
3
Beds
2 | 1
Baths
1,568
SqFt
3
Beds
1 | 1
Baths
1,064
SqFt
3
Beds
1
Baths
1,105
SqFt
3
Beds
2
Baths
1,291
SqFt
3
Beds
1 | 1
Baths
1,232
SqFt